Welcome back for another month of the Me, Myself, and I link-up! So sorry my post is a little late today...please forgive me! It's been a crazy busy weekend here.
If you're unfamiliar with this link-up, you can check out my
July
and
August
editions. Then create your post and link up with us so that we can all learn more about you!
1. When you're feeling down, what do you do to pick yourself up?
This is a no-brainer for me. I grab a bar of Godiva chocolate, get into a nice warm bath and watch re-runs of Grey's Anatomy. It does the trick every single time. Oh, and did I mention online shopping?!
2. If you had to live in a different time period, which would you prefer?
Oh goodness. I'd have to say the 90's. I know that may sound lame but I'd love to go back to my childhood when Backstreet Boys and the Spice Girls were all the rage.
3. What is the most creative Halloween costume you've ever worn?
I am so not creative when it comes to costumes. In fact, I was a witch for three years in a row if that tells you anything. Halloween was never really my favorite holiday either.

4. Five weird things about you we wouldn't know without being told?
a. I put ketchup on my macaroni and cheese. It's a Canadian thing.
b. I love painting my nails but almost always mess them up within minutes.
c. I see no problem with owning 18 scarves. Who's counting?
d. I am so not a pet person but I think they're cute to look at.
e. I am absolutely terrible about shaving my legs. Gross, but true.
5. What would you tell your 16-year-old self?
Don't be afraid to go out on a week night to spend time with your friends. Soon you'll all be spread out over the USA to attend different colleges and you'll lose touch.
So what are you waiting for? Link up with us and grab a button!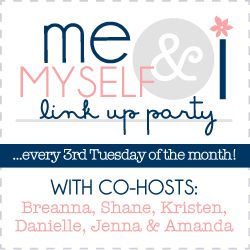 {This month's advertisement}