This week has been cold and windy practically every day. I'm from Canada so you think I'd be used to the cold, but after living here for so long that kind of wears off. Now I'm just cold all the time and we've got the heat cranked up most nights. So what do you do when it's cold and you don't want to leave the house?
You eat a big heaping bowl of comfort food...at least that's what I do. That food for me is usually a warm bowl of chocolate cake with ice cream on top, but we all know that's not a meal. As much as I wished cake and ice cream were their own food groups, I've been told they're not.
And that's where my girl Karly comes in...She'll be joining my team in the upcoming months as my Recipes contributor. Today she's sharing one of her favorite comfort foods, lasagna soup. If you have any leftovers, which I doubt you will, maybe send some my way?
I am
weird
about soups. Very picky. It has to have the perfect taste and texture to win my vote, so when you see a soup recipe from me, you can trust that it's tried and true and absolutely delish!
What I love about this soup is how
versatile
it is. It's easy to substitute italian sausage for the ground beef, or change out the diced tomatoes for something a little more...
"kid friendly"
such as petite diced or crushed tomatoes. My eldest hates tomatoes, so the smaller I can make the pieces, the more she'll likely miss seeing them and eat without complaint. Bah ha ha.
Now, this recipe may look a little demanding when you see the ingredient list, but
trust me
, it comes together very quickly and easily. No need to be a pro chef to master this bowl of awesome!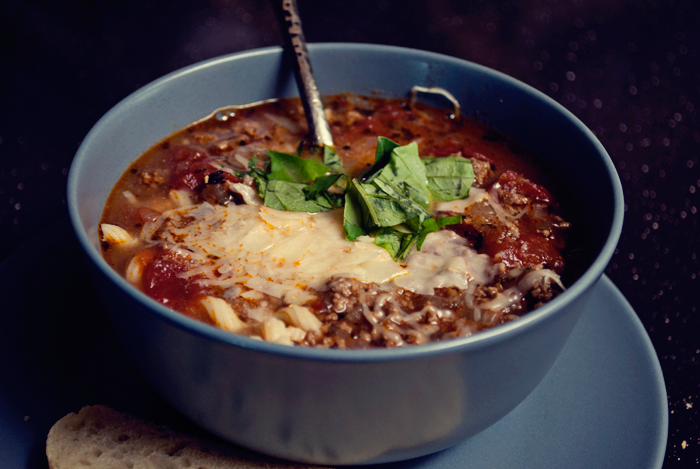 Lasagna Soup
Printable Recipe
1/2 tsp. crushed red pepper flakes
1 28-oz. can fire roasted diced tomatoes
1/2 c. finely chopped fresh basil leaves
kosher salt and freshly ground black pepper, to taste
1/2 c. grated Parmesan cheese
pinch of freshly ground pepper
Garnish:
chopped fresh basil leaves
Heat the olive oil in a large pot over medium heat, then add the ground beef and brown until cooked. Add the onions and cook until softened and translucent, about 6 minutes.
Next, add the garlic, oregano and red pepper flakes and stir, cooking for about 1 minute. Then add the tomato paste and cook until it turns a rusty brown color.
Once the tomato paste is fully incorporated, add the diced tomatoes, chicken stock and bay leaves, stirring gently. Turn up the heat and bring the whole pot to a rolling boil for a good minute, then reduce the heat to low and let it simmer, uncovered, for at least 30 minutes.
Now, when it comes to the chicken stock, you can feel free to use bouillon cubes if that's what you have on hand. I personally use
Better Than Bouillon
, the refrigerated stuff. I love the taste and it doesn't seem watered down or chalky like some other brands, which is always a plus. If you plan on leaving the soup to simmer for longer than 30 minutes, add more stock to the pot, because it will slowly evaporate, and you need the extra liquid for the noodles. I tend to leave mine on the stove for a good few hours, so I generally add an extra 3 or so cups of stock. You can always just watch the liquid level and add more stock as needed.
After 30 minutes, or whenever you are ready, toss in the pasta and let it cook until al dente. You don't want to bring the pot back up to boiling, just stir in the noodles and let it sit. It'll take probably double the cook time on the box, so check on it now and again.
For a helpful tip, this is a fairly large batch of soup, so if you think you may have leftovers, I suggest cooking the pasta in a separate pot, that way you can just add the pasta to the bowls and ladle the soup on top of it. No mushy pasta leftovers!
During the downtime as the soup simmers, you can very quickly whip up the cheese mixture. Seriously, you don't want to miss out on the cheese. Toss the ricotta and parmesan together and sprinkle it with some salt and pepper and mix well. Just toss a heaping dollop in the bottom of each bowl before serving the soup, that way the noodles and soup will melt it to the most perfect
gooey-ness
.
Yes, that's right, I just said
gooey-ness
.
Once you've served up the soup, garnish with some freshly chopped basil and shredded mozzarella and you are ready to enjoy a soup you won't soon forget!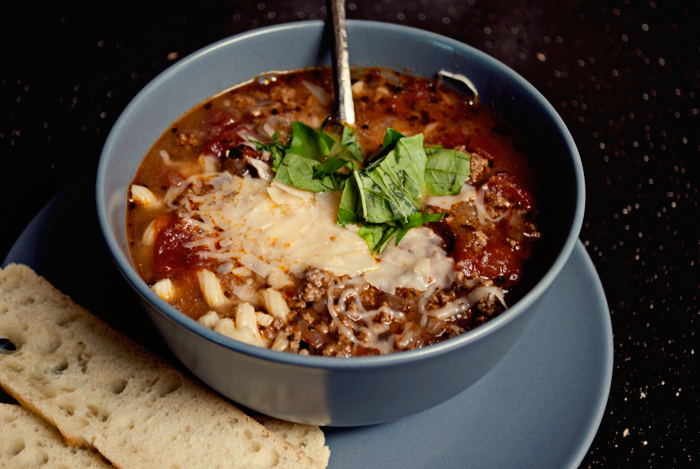 I hope you all enjoy this soup as much as I do. Just typing all this makes me want to whip up a new batch, especially since it will be cool and rainy here in Phoenix this weekend. Let me know what you think if you try it! {For the simple, printable recipe, click
HERE
!}