If you follow me on Twitter, you probably know that I've opened up something new this week...Framed Frosting is now accepting guest bloggers! Don't worry, I'm not going anywhere. (But I do have a LOT of work to do before Monday's giveaway.)
I thought it would be fun for all of you to check out some of the new blog friends I've met and show you how awesome they are! First up is Aunie...you all are going to absolutely LOVE her! I sure do.
--------------------------------------------------------------------------------------------------------------------------------
My name is Annelise
and I blog over at
Aunie Sauce
.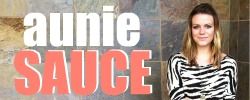 I'm a swanky blogger with a quirky sense of style...
and I'll be sure to keep your entertained all day long.
I've got to tell you,
I was thrilled when Danielle asked me to guest post.
Since I don't have any extraordinary talents,
besides my ability to collect bouncy balls and
paint nails
,
Today, I'm going to show you how to wear boots.
Granted, this is the colder-weather addition... so I want to be straight up with you
and tell you that every look here can be duplicated in spring and summer,
but you may want to get rid of the tights or pants.
Just sub a mini or some cute capris or shorts, and you'll be set!
Ok buddies, are you ready for this?
Tall boots, paired with a simple tee, black leggins, a belt and a blazer is one of my favorite looks right now.
This can easily be transformed into a chic summer outfit if you sub shorts for the leggings.
Want to be comfortable all day and still look put together? Pair some leggings,
boots and a cardigan with an oversized scarf for a wearable, comfortable style.
Or pair those leggings with a funky sweater and a long tank.
I even wore this look to church!
Tuck those pantalones into your boots and head out the door!
I find this style works best with skinny jeans, of course, but if you have
boot cut jeans, don't worry about the tuck-in. Boots with boot-cut jeans make
legs look so long and slender, with a bit of edgy style.
I love this look! Pair a funky skirt, some tights, big socks and boots together
and you'll look like you walked right out of a Forever21 catalog.
Or, skip the funky skirt and add a bright scarf. You'll bring those boots to life!
I'm confident that boots work with any dress. Whether it 's a maxi or a mini,
boots add jazz to any dress in summer or winter.
If you're really wanting to be comfortable around the house, pair a big, oversized sweater
with some leggings and Uggs and you'll be cozy and warm all day long.
And last but not least,
HOW TO NOT TO WEAR BOOTS:
No Uggs with shorts. No Uggs with skirts. No duck face. Enough said.
If you like my outfits— that's awesome.
But, if you like my hairstyles, please head over and visit
my
hair blog
where I post tutorials about how to do those styles.
But, by all means, also visit
Aunie Sauce
.
I can't wait to see you there!
I really hope you all enjoyed my little style pointers.
I may have a quirky sense of fashion,
but hey, if you want to try something different,
JUST GET OUT THERE AND DO IT!
Don't be afraid of those nay-sayers.
How you feel in what you're wearing is the most important thing...
And if you feel like a rockstar,
by golly— YOU ARE A ROCKSTAR.

Thanks so much Aunie for taking over today!
{If you'd like to be considered as a guest blogger, please fill out this form!}